Modern Apprenticeships
Earn whilst you learn!



About CV Life College and Aspire Training Solutions
CV Life College along with Aspire Training delivers Level 2 apprenticeship programmes designed to introduce people into the working world of leisure. Apprenticeships Schools & Community Apprenticeships, Leisure Apprenticeships and Swimming Apprenticeships.
All our apprenticeships provide you with the opportunity to enter into a wide range of career paths and further education. This could include employment with CV Life, external companies or even going to University with the qualifications you will obtain.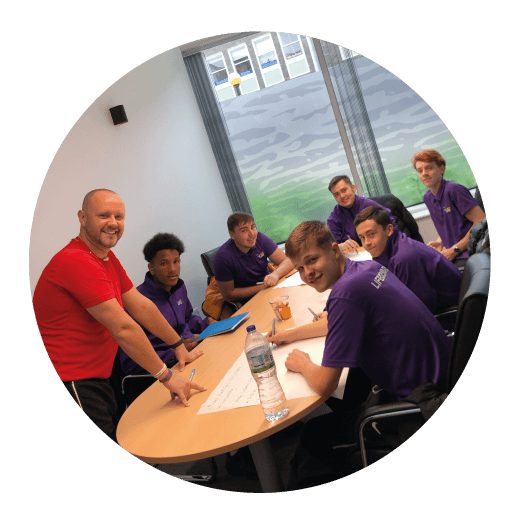 CV Life's mission is to…
A Shared Vision
To serve and reflect the full diversity of Coventry's population through pioneering outreach work, imaginative programmes, high quality venues, flexible pricing, and sensitive customer service. ​

To make positive changes to lives, by recognising the layered and complex inequalities that persist in some of our communities, and then offering innovative and tailored approaches.

To always strive to widen the reach of our work and deepen the impact upon the lives of people and their communities. ​

To attract residents, and visitors from further afield in our destination venues, in ever-growing numbers, by exceeding customer expectations and by implementing measures to continually widen access. ​

To play a leading role in the regeneration of Coventry, increasing pride in the city amongst its people, and contributing to inward investment with consequent city-wide benefits. ​

To earn income from the destination venues that can further enhance and expand the Trust's community work, ultimately bringing increased and more diverse usage in those venues.
A Shared Mission
To connect with and understand people and their communities, so that facilities and services can be specifically shaped to be relevant to their needs and to enrich their lives; ​

To continue to challenge the accepted norms about engagement and be driven as much by the impact upon people's lives as by the numbers of people reached; and ​

To understand complexity, to be persistent, and not be deterred or shy away from being innovative in pursuit of our goals. ​
A Shared Purpose
To bring about meaningful and lasting quality of life improvements for the diverse communities of Coventry.

To build the confidence, health, happiness and wellbeing of individuals, increasing pride in themselves, their community and their city.
Aspire Training Solutions
Aspire engages children, young people and families in physical activity, by providing innovative delivery and training services and resources that educate and inspire.
Whether you're a parent seeking ways to help your children become more active, or a school, early years setting or another organisation looking for a provider of first-class sports coaching, mentoring or training, Aspire is always there to help. Our highly qualified and experienced team can provide the programmes and activities tailored to you exact needs.
Research shows that inactive lifestyle can seriously effect the long term health and well being or children and young people. Aspire Training Solutions helps to tackle this problem by providing innovative training programmes for early years, primary and secondary schools, companies and individuals.
We offer a wide range of qualifications, training programmes and modules that give teachers, school support staff, sport coaches, apprentices and parents the skills and confidence to engage people in physical activity successfully. Aspire Training Solutions is recognised and approved by the Association for Physical Education (afPE) Professional Development Board for assuring high quality learning, teaching and coaching for PE and school sport professionals.
For more information on the qualifications available please visit:
https://www.instituteforapprenticeships.org/apprenticeship-standard/community-sport-and-health-officer/
Qualifications with further training:
Level 2 award as Leisure Team Member
Level 2 Leisure Team Member Apprenticeship Standard.
Level 2 Award in Pool Lifeguarding.
Level 2 Certificate in Fitness or Gym Instruction.
Level 3 Certificate in First Aid.
Level 2 in Teaching Swimming.
Level 2 certificate as a Community Activator Coach.
Level 2 Coaching Award in Multi-skills Development in Sport.
Level 3 Certificate in Supporting the delivery of PE and School Sport.
1st 4 Sport – Mental Health Awareness for Sport and Physical Activity Training.
CPD in supporting Behaviour Change.
Mental Health & Wellbeing CPD workshop.
PE CPD – National Curriculum PE ( Invasion games, striking and fielding games, net and wall games, athletics).
CPD training / resources in dance.
CPD day in gymnastics.
Impact – Social Skills in Digital World training.
Benefits:
Great way to learn new or improve existing skills.

Recognised Qualifications and Awards by Employers.

Opens opportunities with Leisure, Teaching and Coaching.

Practical Learning within CV Life and with Aspire Training Solutions.

FREE health and fitness membership.

FREE uniform for applicable roles.

DISCOUNTS on Centre activities.

FREE entry to venues.
Additional Information:
Hours per week:
37.5 hours – Leisure
30 hours – Swim/Schools
Duration:
18 – 20 months
Now open for applications!

Please email Nicola Walker at nggeorge@cvlife.co.uk
and apply with your CV.

Closing date for this years apprentices is 1st July 2023.