A new initiative which aims to help families with young children have fun and learn at the same time at CV Life's Herbert Art Gallery & Museum this week.
'50 Things To Do Before You're Five' is packed with fun, low-cost, or no-cost activities to enjoy with children. It's a great way to support their communication skills, early learning, and self-confidence.

It comes as an app that can be downloaded for free, and as activity cards available at libraries, Family Hubs, and other locations across the city.

The wide range of activities covers different topics from making discoveries in the woods, to exploring how sound changes in different places, and investigating water play at home. It is supported by a number of local venues.

The scheme launched at the Herbert on Wednesday 15 November before an audience including school children, childminders, local nurseries, Family Hubs and partner organisations that have helped to make it possible.

The 50 Things include ideas such as, Mini Beasts and Bug Hunting, Shout and Shhh, See The Stars, Dressing Up, Hocus Pocus Potions, See it Live, The Wheels on the Bus, Woodland Wandering, Calm and Colourful in Coventry and Great Coventry Cooking.
Families can tick off the activities as they go, and each one is designed to make children better prepared for learning when they start school, which helps them to become more likely to be successful in their GCSEs and later life.

The experiences all build skills and language, supporting brain development in young children, as well as being great fun!
Talking about the launch, Lisa Ford, Head of Learning and Engagement for CV Life, said: "Supporting children in their early years development is such an important area for our museums to nurture. It's always sat very close to my heart and having three young children myself, awareness and opportunities for simple activities and places to visit is something that really resonates with me.
Across the Herbert and Coventry Transport Museum we have developed an extensive programme for children under 5 and it's something that we really thrive on delivering. It's not just about fun engagement for our youngest visitors though; it's about creating learning opportunities that will help them develop socially, cognitively and enhance their fine and gross motor skills, all of which we enrich in a creative setting.
"Furthermore, having children welcomed into our museums in their first years of life has a long-term, generational impact. I am a firm believer that engaging with babies and toddlers in museums instills in them a love of cultural settings from their earliest years, which they will carry with them into childhood, actively asking their parents to take them to museums as children and then as adults choosing to visit with their own children and grandchildren in later life.
"Working in collaboration with the Council's early years team and My Friendly Cov allows our early years opportunities across the museums to be shared more readily on the 50 Things App and we are proud to share the App and it's brilliant content with our visitors too."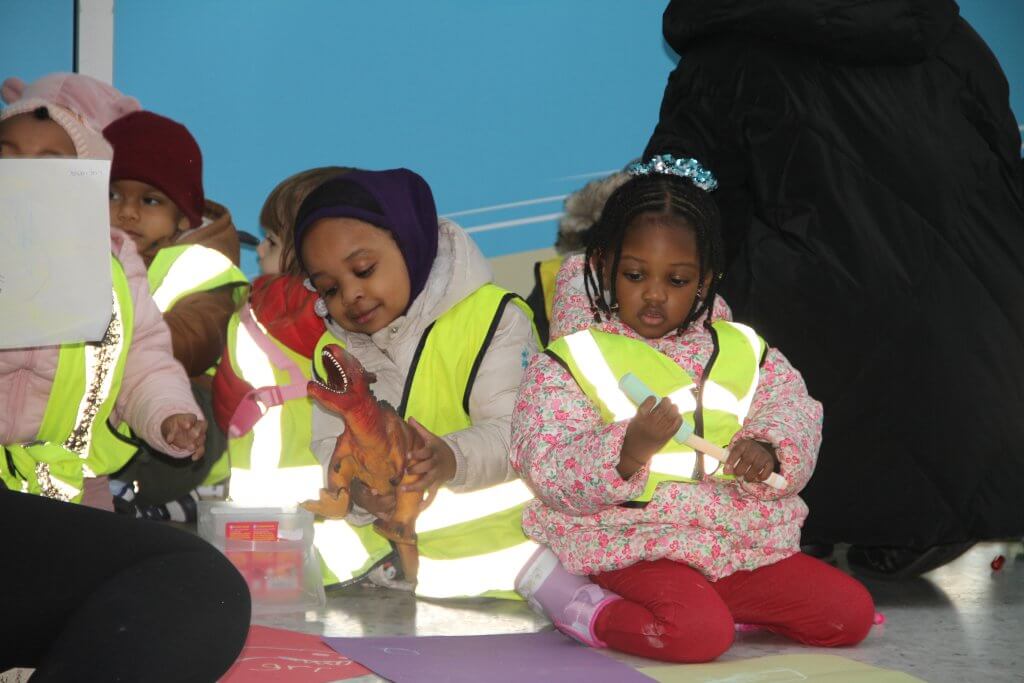 Cllr Patricia Seaman, Cabinet Member for Children and Young People at Coventry City Council, said: "I am delighted that we are launching 50 Things in Coventry.
"It really is a wonderful idea that brings children and families together to have fun and learn at the same time.
"As a grandparent, I'm looking forward to downloading the app and trying out the activities. Many of them are tailored to things here in our own city, and I know people are going to love getting out and about as families and giving their children some great experiences.
"Importantly, the activities are all either low or no cost and that means everyone can take part and all children can benefit, which is perfect for our Child-friendly Coventry approach.
Cllr Dr Kindy Sandhu, Cabinet Member for Education and Skills, said: "50 Things is a great way to show children how much fun learning can be and to get them ready for those all-important early days at school.
"Each activity has been inspired by parents and carers and developed by early years experts and language specialists to create a fabulous resource that really can make a difference as children develop their early skills.

"The app will get the whole family involved in learning and education. It's a real One Coventry project where organisations have worked together to help the children of the city."
The app contains all the information, guidance and supporting resources required to allow parents to build a memory bank of photos and videos, as a collection of their child's special moments.
You can find out more by searching for '50 Things Coventry' online, and following on Facebook, Instagram and Twitter.

The app is free to download on the Play Store and App Store.