A group of Coventry artists are preparing work to be displayed at a major exhibition in the city this summer.
The Art Riot collective is a FarGo based artistic hub which supports and elevates talented neurodivergent and disabled artists. These artists have collaborated with some of the region's most celebrated urban artists for Work on Walls at Herbert Art Gallery & Museum, which is open now.
The exhibition has seen some of the walls at the venue transformed by contemporary artists, in response to the Herbert's own collections.
One of Art Riot's talented artists is Roxanne Smith. With the help and resources of Art Riot and her support network, Roxanne has been able to evolve and develop her creative practice since joining the collective.
Her talent is such that she has had works have exhibited at Mead Gallery: Warwick Art Centre, Explores Project Tate Liverpool, and Explores Project Mk Gallery.
Speaking on behalf of Roxanne, her support Madina said: "Art Riot spotted Roxanne's talent and we started attending the sessions twice a week.
"We didn't realise how talented she was, so we felt quite bad, but now the work she does makes her so happy, it's improved so many parts of her life.
"At the exhibition at Warwick she found some of her work and you should have seen her face, she was so happy."
Jemima Graham, one of the Work on Walls artists, is collaborating with Art Riot to create work for the exhibition. Jemima is creating wall hangings collectively made by the artists inspired by images of the cathedral found in the Herbert's permanent collections.
A visual artist from Birmingham, Jemima is interested in creating playful and inclusive spaces that incorporate art, play and the environment.
She said: "I chose items from the Herbert's Archives primarily linked to the cathedral – I just find the cathedral really inspiring and influential. Then the artists spent some time there too, as a source of inspiration.
"I wanted to get the group to explore what's in their local area but observe it through a different lens, and use that to make some observational drawings of how they see the cathedral.
Then we'll use that work to create a new interpretation – I'm hoping to make some big wall hangings."
Discussing Roxanne and her fellow artists, Mim added: "I find working with people like Roxanne so inspiring. It really strengthens that notion of art being a universal language – you don't necessarily need to have a verbal conversation to try and understand their experience.
"But these kind of environments and spaces like the Herbert should be accessible to all. Art is for everyone, and Neurodiverse people should have the same access as everyone else.
"Art and being creative and playful are natural instincts we all have as human beings. Art is play and play is art, they can be the same thing – experimenting, making mistakes, learning, – you learn through playing and you go through the same process you go through when creating artwork."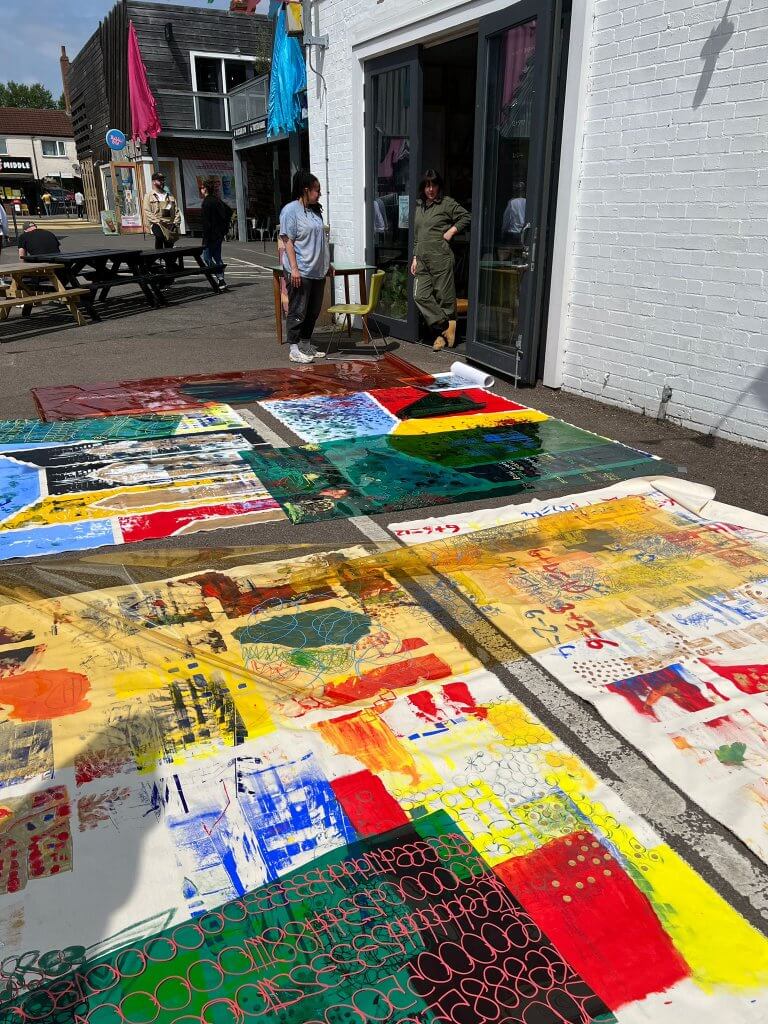 Kyla Craig, creative director of Art Riot, said: "We identify creativity in people and help them nurture and grow and build cultural connections and opportunities for those artists.
"It's amazing being able to spot talent, nurture it and see it going from strength to strength. It's a joyful moment seeing the artist enjoy their work in a public place. Then it enthuses and energises the next session, so they get influenced by their own work. I feel like my own creativity benefits from this too, and I'm being influenced too."
Discussing the role Work on Walls can play in the work of neurodiverse artists, Kyla continued: "A lot of our artists can't tell us with words what they want their journey to be so often we have to pre-empt or simply just create opportunities for them to explore, be it gallery space, art spaces, to help them along on that journey by creating cultural opportunities.
"Work on Walls is an amazing opportunity for our artists to work with established artists from in and around the city.
"It enables a group of artists to work together with the Herbert to create something special – be it artist recognition or artist collaboration and I just think that's quite joyous."