An Iranian academic who was enlisted in the military at 14 and later fled to the West Midlands to escape conflict has been named as the winner of the Coventry Open public art competition.
Mohsen Keiany, an artist and academic whose work responds to ongoing violence in Iran and his own experiences as a soldier, has been named as the winner of the 2023 Coventry Open at the Herbert Art Gallery & Museum for his painting 'The Motherland'.
For the 12th edition of the annual exhibition, organisers scrapped entry fees and included a young people's showcase for the first time, giving more artists a chance to exhibit their work in a professional gallery setting.
More than 1,000 submissions were made across a variety of media in January, with 248 shortlisted by a panel of independent judges and the best 108 are now on display until Sunday, May 21.
The exhibition, curated by Alice Swatton, hopes to showcase the best artworks created by people living in and around Coventry and allow artists to sell their work, with an additional People's Choice prize to be determined by visitors to the Herbert Art Gallery & Museum via a public voting system.
Mohsen, who is a professor at Birmingham City University and is to receive a £1,000 prize, said: "As artists, we are always working behind the scenes and never really thinking about where our work will end up or who will see it. But to have an event and a project like this bringing together so many other artists with such a high quality of work from is incredible.
"It is an unbelievable honour to be selected by the judges. A lot of time spent alone goes into my work, but I am responding to so much going on in the world and from my past, thinking about others, and I hope that visitors can feel a sense of that in the work."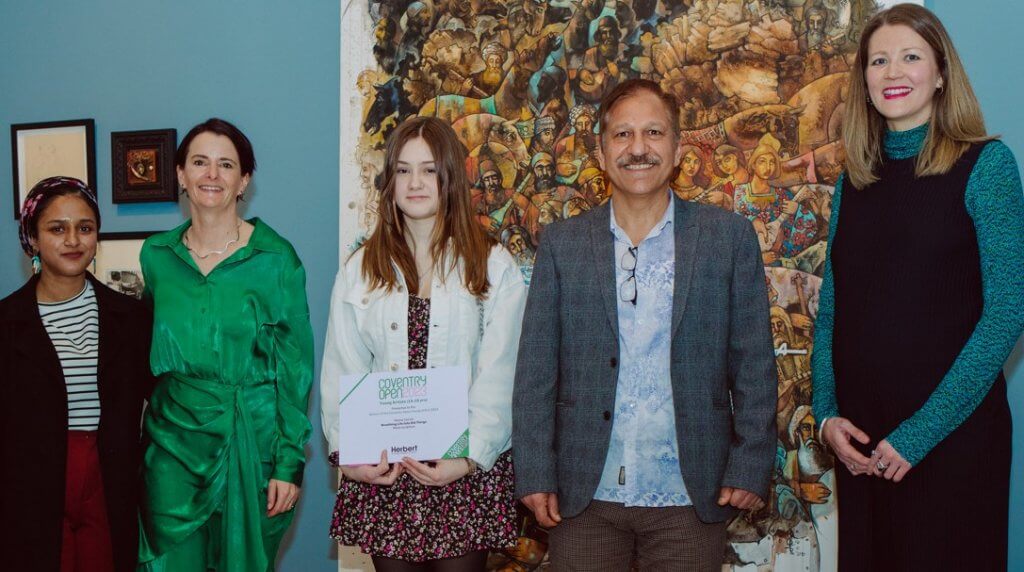 The launch event saw around 400 visitors flock to the gallery in Coventry City Centre, including shortlisted artists and their friends and families.
The panel of judges for the 2023 Coventry Open included self-taught UK artist Anna Berry, artist, writer and poet Rene Matic, portrait photographer and curator Dominique Nok, and award-winning artist and educator Nilupa Yasmin.
BOA Academy student Maisie Carroll, 15, from Coventry was awarded the Young Artist's Prize for her upcycled dragon sculpture made out of an old blowtorch.
She said: "It was a real surprise to be named the winner and it feels like a great achievement. I think it's a really good platform and I enjoyed taking part. I hope to carry on working with art in the future."
Margeurite Nugent, Director at Herbert Art Gallery & Museum, said: "We are absolutely thrilled with the level of engagement in this year's Coventry Open and the results have been truly amazing.
"It's important to have a platform like this as it allows us to celebrate artists living and working in the West Midlands, and also encourage more people to be push themselves creatively.
"We wanted the 2023 edition to be as inclusive and diverse as possible, and I hope that even more visitors will be coming through the doors over the next couple of months to see what their West Midlands neighbours, colleagues and friends have achieved."
​​​​​​​
For more information about the Coventry Open 2023 visit www.theherbert.org/whats-on/1710/coventry-open-2023