When it comes to volunteers, CV Life is extremely lucky to have some truly incredible people who give up their spare time to help us deliver the best programming we possibly can.
Be it front of house at the Herbert or in the workshop at the Transport Museum, there are dozens of people of all ages who go out of their way to make a difference.
But there is one group of retired ladies whose unsung efforts from behind their sewing machines has had a huge impact.
Ruth Barton and Patti Dean, who are sisters, as well as Alex Harris and Shirley Jack, have all been sewing their whole lives.
All spent their careers working in education, but thanks to the sewing talents they'd learnt as youngsters, through their lives they've been able to turn their hands to fixing up clothes, stitching household items, and occasionally even fashioning themselves new garments when needed.
They now use these talents to create all manner of items used at CV Life culture venues. Their work is so highly regarded, they have won multiple awards, their contributions to our organisation being described as 'invaluable'.
The backbone of this cluster of incredibly dedicated people have been working together for over a decade, turning their supreme talents to just about anything, across sites, as and when required.
Most recently, with the arrival of Dippy, they've worked on some fantastically colourful and fun dressing up costumes for children to try on as part of the education programming surrounding the exhibition.
Ali Wells, Curator for the Herbert Collections, has worked with the group since its inception.
She explained: "This fantastic team from the Arts Society have been with us since 2010 and have done a wide range of projects across almost all of the collections, as well as for the learning team.
"Highlights are, but not limited to, Victorian underpinnings to go under dresses for a costume exhibition; stabilising and mounting samplers which included specialist training from a textile conservator; bags to properly store the parasols and swords; temporarily mounting taxidermy and making curtains to keep the dust off; protective covers for bicycles on display at CTM; documenting and packing costume.
"For learning – making and adapting costume to keep them accessible to all, covering blocks and cushions for creating a Very Hungry Caterpillar and its food.
"The group has been awarded a gold star certificate by the Arts Society for their volunteering, and were shortlisted for group of the year at the West Midlands Museum Development Volunteer Awards in 2018.
"Over the past twelve years the group have become dear friends as well as being invaluable volunteers."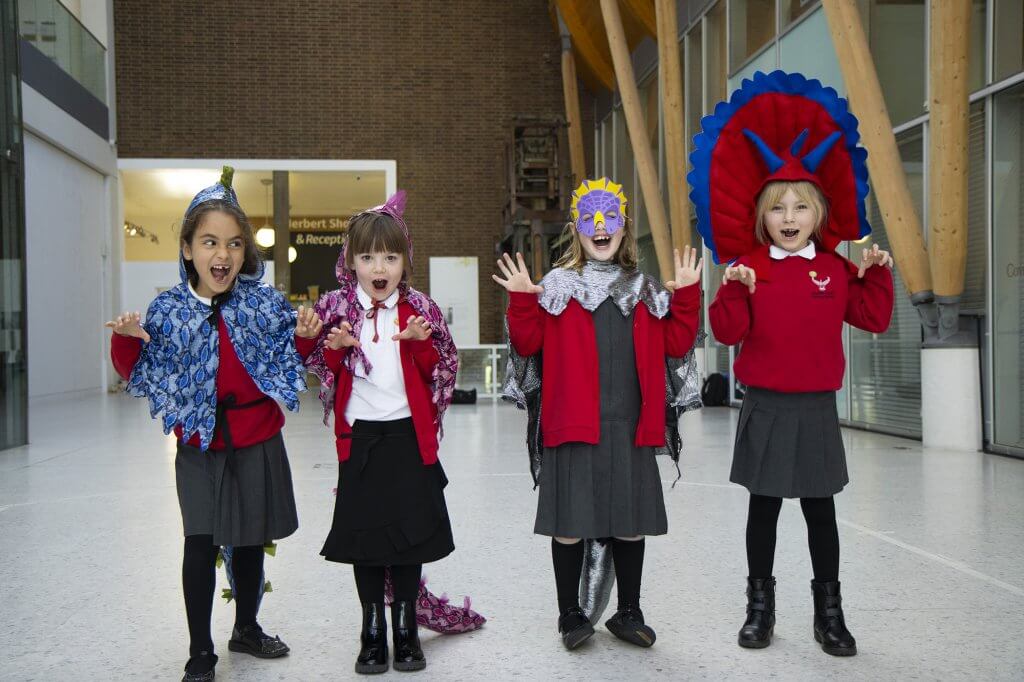 Hareena Liddar, who is Family Learning Coordinator at the Herbert Art Gallery & Museum, works closely with the group.
She said: "The sewing ladies have gone above and beyond with the work they do here at the Herbert Art Gallery and Museum and across some of our other sites as well.
"The ladies are very talented, so creative and always so original with their ideas. They have a real eye for detail and always happy to delve into different projects we ask them to help us with.
"They have been so excited with creating the Dino costumes and have literally transformed their living rooms into costume making spaces. This shows so much passion from their part and how much they are part of our wider team.
"I took Ruth and her sister Patti shopping from Dino fabric before Christmas. It made me so happy to see them so excited.
"I have really enjoyed working with them and hope they keep creating more wonderful things for our offer and our visiting families."
Speaking to me collectively, the group said: "The best thing about being in the group is the camaraderie. We have such good fun and have got to work on some really nice things.
"A bit like schools, museums don't always have lots of funding, especially at the moment, so it's great knowing that what you're doing matters and is worthwhile and of value.
"Coming from education backgrounds and knowing our work will make places like museums feel like fun places to young children – gives you a real sense of joy."