The Learning and Engagement Team have recently received national and regional recognition for ongoing work with family audiences across our museums and for the innovative Coventry Banner project, which was a community-based exhibition inspired by the Turner Prize 2021.
Charity Kids in Museums has run a prestigious annual award for 16 years, recognising the most family friendly heritage sites in the UK.
Culture Coventry was shortlisted for the Best Engagement Team award, receiving the runner up prize at the recent awards ceremony at the Museum of the Home in London, on 19th October 2022.
This category recognises the dedication and innovation of museum staff and volunteers that go the extra mile to create an excellent family experience.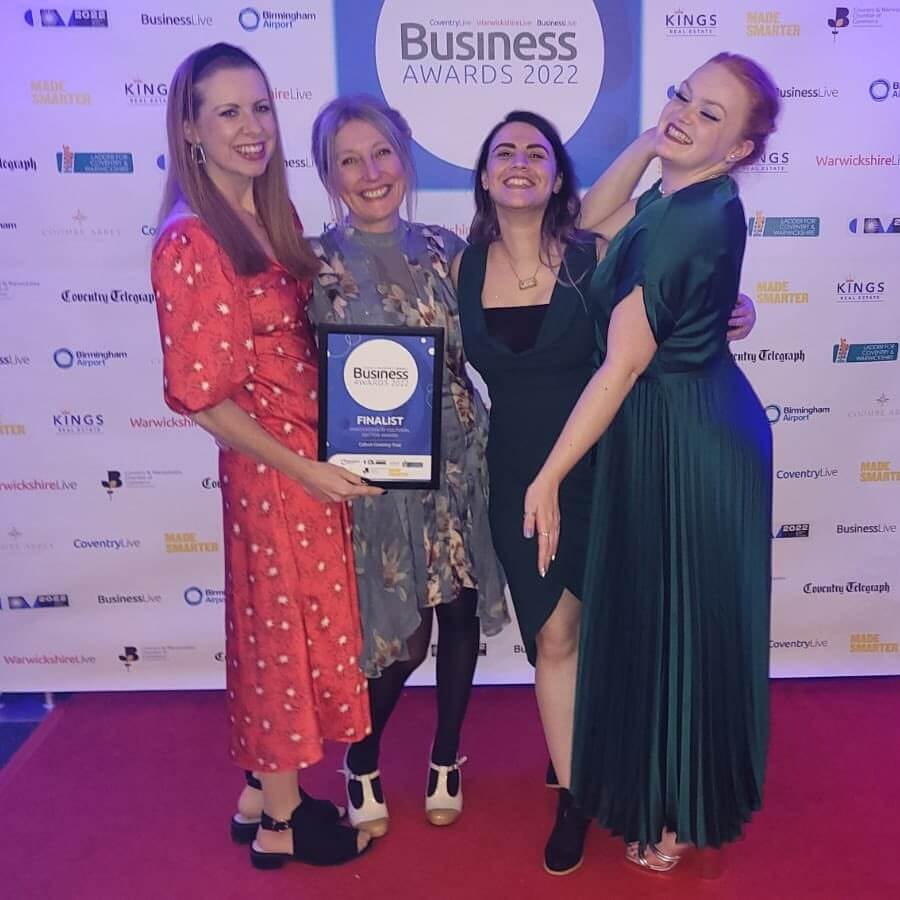 ​​​​​​​Your presentations showed the strongest thinking about safeguarding from all the finalists. It was impressive to see that you had taken the time to come up with a bespoke approach that met the needs of your visitors.

It's clear you really value your staff. The CPD opportunities were impressive, and we were really encouraged to hear how you support and develop your Learning Assistants. It was evident that you were committed to building on the strengths of your staff and overall the team felt like a family.

Overall, it was clear that you were achieving a huge amount on a small budget. Family engagement was visible in all of the gallery spaces, and we thought the HAF programme was very impressive. We found your passion and enthusiasm compelling, and it was very close to winning the top prize."
Following on from this, Kids in Museums have recently released an article listing the best museums to visit across the UK for babies and toddlers, with the Herbert Art Gallery & Museum included. You can read more here: Best museums for toddlers and babies – Kids in Museums
To add to the celebration of the pioneering engagement activity from the team, the Coventry Banner project, was shortlisted for the Cultural Sector Innovation Award in the Coventry and Warwickshire Live Business Awards.
Chief Executive Officer, Paul Breed, comments: "The mission of CV Life is to reach out to communities with innovative opportunities for furthering engagement, experience and a sense of fulfilment through programmes and initiatives that value personal expression – even if such programmes are intentionally disruptive or questioning of socialised 'norms'.
"The Banner Project has in every way captured the very essence of that mission – encouraging people, groups and organisations to freely express their 'take' on aspects of everyday life that are important to them or that they feel should be challenged or are challenging. The growing context of global and local issues certainly presents sufficient material for challenge and expression."
The legacy of the banner project continues, with a new display currently being curated with Central Methodist Hall for an exhibition in this city centre, community venue. The banners are being sewn together to suit the redisplay, with community group Foleshill Creates and are being incorporated into Central Methodist Halls, weekly 'Chit Chat and Craft' sessions. These sessions are aimed at those living in fuel poverty and designed to provide local residents with a community craft space where they can encounter social opportunities, with free access to refreshments, in a warm and welcoming space.
The sessions will start on the 16th of November and finish in March 2023, with an exhibition launch set to take place on 8th March 2023 to mark International Women's Day.
Furthermore, a digital zine, transcribing the stories of the individual banners in its final stages of development and will be available on the Culture Space Coventry website: Coventry Banner — Culture Space Coventry
A huge well done to everyone in the Learning and Engagement Team and the extended family of CV Life staff, volunteers and participants who have made all of this possible.​​​​​​​

Article written by Danny Thompson.