Here at CV Life, we are proud to be supporting 'Wheels 4 All' Coventry, a programme that aims to build confidence in cycling and provides a warm and welcoming environment for people regardless of their ability to try a range of adapted cycles.
Wheels 4 All will provide opportunities for people with disabilities to ride around various locations in the city. The programme is open to people of all ages, individuals and families.
To kickstart the programme at CV Life, Midland Mencap will be running their 'parkride Cycling with Confidence' course at Centre AT7 across five sessions.
The parkride team will be delivering Cycling with Confidence courses as part of the Ride Ahead Together programme.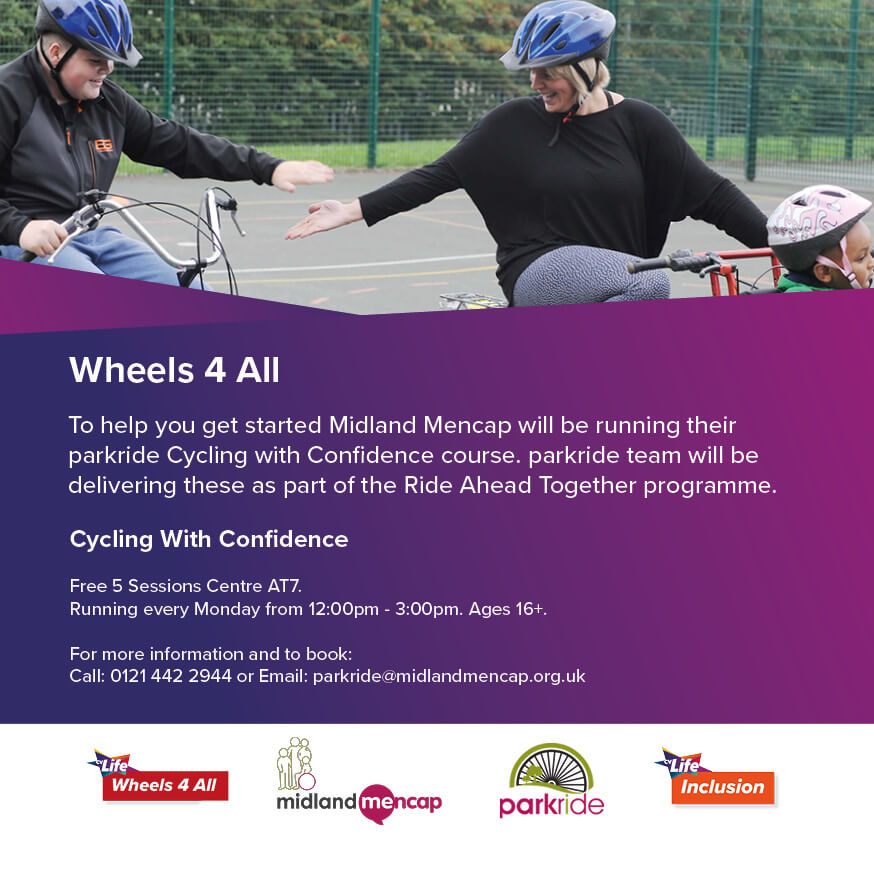 The programme aims to help people to recognise danger on roads when cycling, encourage independence and to encourage those with disabilities to be active.
Additional skills such as repairs and adjusting seats and brakes for example, will also be focused on.
The course is free and starts 1 November, running each Monday from 12noon – 3pm for those aged 16 and over.
All equipment will be provided – just turn up and enjoy!
We aim to make everyone as comfortable as possible, so please contact us if you have any additional needs when booking.
A variety of bikes are available so your needs can be matched to the bike as best as possible.
Mandip Sehmi, Disability Sports Development Officer at CV Life, said: "I'm really pleased we at CV Life are able to support and help deliver this programme at one of our centres.
It's so important all abilities are catered for in the world of sport and physical activity and Wheels 4 All really does that. The course will make everyone who attends feel comfortable and confident in building their skills. I really look forward to the sessions starting next month at Centre AT7."
Partners are city-wide for the programme and include Coventry City Council, Midland Mencap, Cycling Projects, Think Active and Park Ride.
For more information on the course and to book, call: 0121 442 2944 or email parkride@midlandmencap.org.uk.
For more information on Wheels 4 All programme, email Mandip Sehmi – CV Life Disability Sports Development Officer msehmi@cvlife.co.uk