The Queen's Baton Relay will be travelling through Coventry on Thursday 21 July – a week before the start of the Birmingham 2022 Commonwealth Games.
Arriving in the city at 4.40pm, the route will start at The Alan Higgs Centre before the Queen's Baton moves to The Reel Store, followed by Millennium Place.
At Millennium Place, a free Journeys that Matter event will be held from 4pm – 6pm where spectators can enjoy an afternoon of movement with classic vehicles, cycles, dancing, wheelchair basketball and much more.
At 6pm the Baton will be carried to Broadgate, where Coventry's Voices will be taking place – a show with performances from local young people including dance, music, rap and spoken word.
The Baton will then travel to The Wave Waterpark before it is handed over and carried to St Mary's Guildhall and Herbert Art Gallery.
The next stop at 6.45pm is Assembly Festival Gardens. A celebratory event will be held in the gardens from 5pm – 7.15pm to welcome the Baton and Batonbearers to the city. Music, performances and interviews with sporting heroes and Batonbearers will take place at the free event.
Coventry Cathedral will be the final stop of the evening where Coventry will send a message of peace and reconciliation to the Commonwealth.
From 10pm – 12 midnight, spectators can enjoy a free evening spectacle of Laser City UK from the awe-inspiring interior of Coventry Cathedral. Blue lasers will beam across the city from St Michael's Tower from 10pm.The Baton's arrival at the cathedral signals the start of Laser Light City by Seb Lee-Delisle, a spectacular free laser light show that runs from 10pm until midnight on Thursday 21 July, Friday 22 July and Saturday 23 July.
The historic ruins will be filled with powerful laser beams set to music running on a loop.In addition, interactive sky lasers will be firing from the historic St Michael's Tower as a message of peace that can be seen for miles around. The public can take control of each laser's position, colour and shape in real-time with their phones. More information about how to take part can be found at www.laserlight.city/coventry.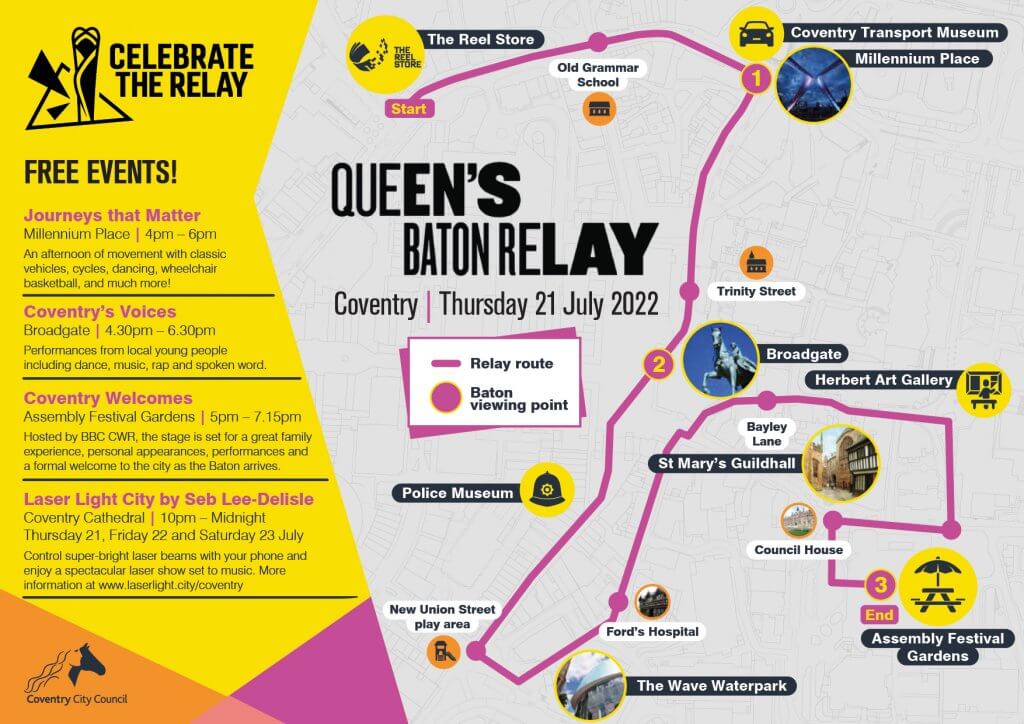 Special note:
Rolling road closures are due to be in place for the duration of the relay on Thursday 21 July with Upper Well Street, Corporation Street, Bishop Street and Tower Street closed from approximately 4pm – 5.30pm, whilst Hales Street will be closed from 4pm – 6.15pm.
The next set of closures will be New Union Street and Greyfriars Lane closed from 5.30pm – 6.15pm, followed by Little Park Street, High Street, Priory Street and Cuckoo Lane closed from 5.30pm – 7pm. Pedestrian access will be maintained throughout.
See more information on the Queen's Baton Relay.